While comics can be an effective medium for communicating privacy concepts, existing privacy and security educational comics do not support content creation. To address this, we developed PrivacyToon, a comic authoring tool that helps users create customizable privacy-related visual content.
Quick Facts
Teaching appropriate privacy practices and cybersecurity concepts can be challenging.
Comics has been a popular medium for explaining privacy and cybersecurity concepts.
With existing tools, however, it is time-consuming and challenging to create educational comics. They are not designed to be customizable to capture evolving threats and new topics of interest. Further, they do not engage users in the creative process of constructing content to communicate and reflect on their understanding of the concepts.
===
Ideation cards are cards that support ideation tasks, i.e., brainstorming ideas.
Ideation is a fundamental step in any design process. Over the years, supporting ideation with ideation cards has been one of the most popular forms of creativity support for supporting design processes (e.g., ).
PrivacyToon
You can watch the tutorial below to see how it works (or try the the system at https://privacytoon.github.io/). For a more detailed breakdown of the system, please see our paper.
Methodology
Derive design goals based on literature and prior work
Develop PrivacyToon
Test its educational and creativity support capabilities via user study
User Study

We conducted a within-subject study with 18 students and 5 teachers. As shown in Fig. 2, the study consisted of the following steps:
Pre-study survey: Answer questions related to demographics, etc.
Replication exercise: Get familiar with the drawing tool via replication exercise.
Task#1 (WITHOUT-CREATIVITY-SUPPORT): Read an article about privacy topic -> Create comic about the topic -> CSI Survey
Task#2 (WITH-CREATIVITY-SUPPORT): Read an article about privacy topic -> Create comic about the topic -> CSI/Post-Study/Usability Survey
Exit interview: Elaborate on the authoring process and survey responses.
Preliminary List of Design Dimensions in Privacy Comics
By analyzing 46 comics created from the study, we found various design dimensions for privacy comics (cf. Fig. 4). For detailed explanations of these dimensions, please see our paper.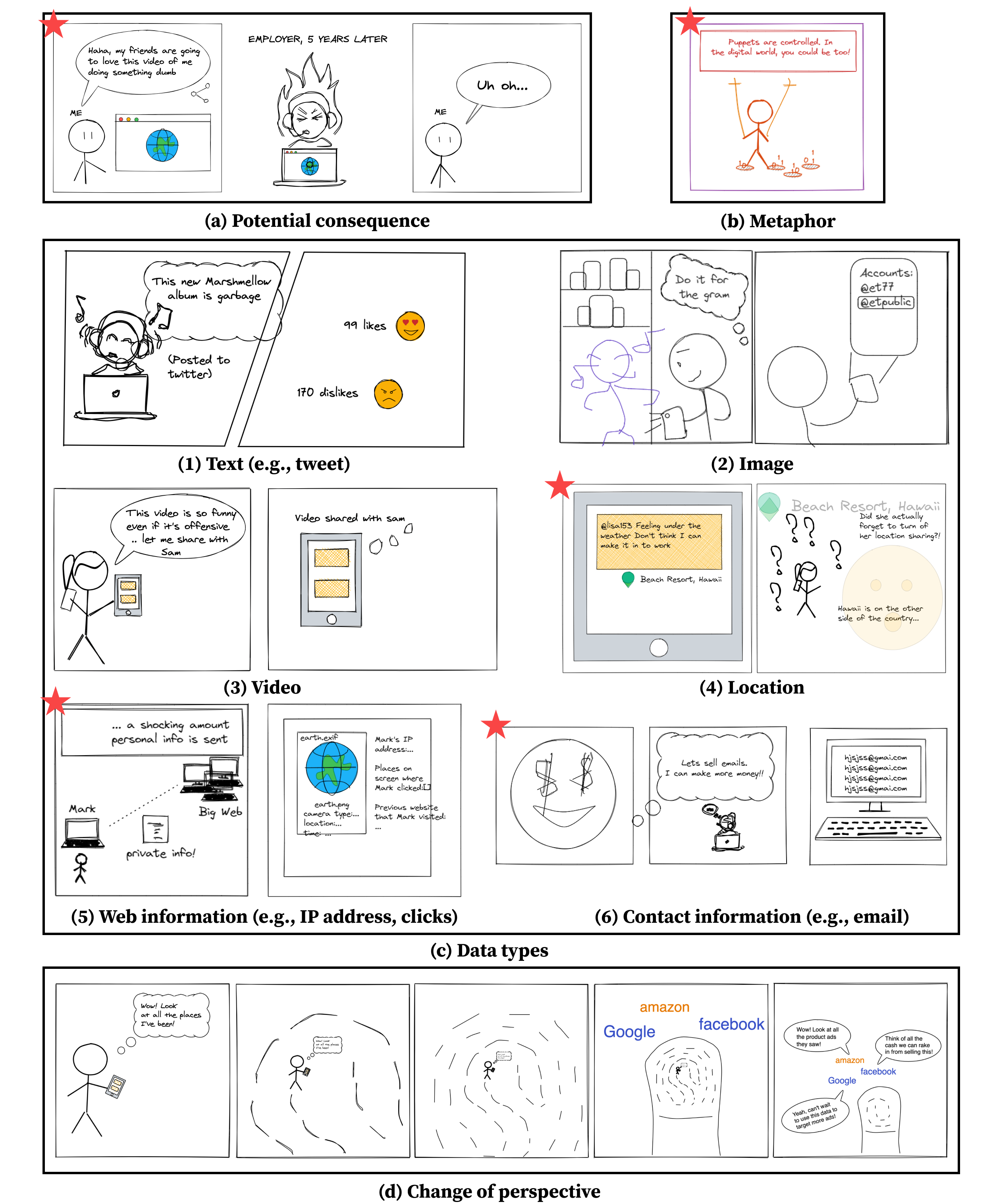 For More Details
Publication
Sangho Suh, Sydney Lamorea, Edith Law, and Leah Zhang-Kennedy. 2022. PrivacyToon: Concept-driven Storytelling with Creativity Support for Privacy Concepts. In Designing Interactive Systems Conference (DIS '22). Association for Computing Machinery, New York, NY, USA, 41–57. https://doi.org/10.1145/3532106.3533557
Cite this work

@inproceedings{10.1145/3532106.3533557, author = {Suh, Sangho and Lamorea, Sydney and Law, Edith and Zhang-Kennedy, Leah}, title = {PrivacyToon: Concept-Driven Storytelling with Creativity Support for Privacy Concepts}, year = {2022}, isbn = {9781450393584}, publisher = {Association for Computing Machinery}, address = {New York, NY, USA}, url = {https://doi.org/10.1145/3532106.3533557}, doi = {10.1145/3532106.3533557}, abstract = {With privacy-related concepts often abstract and difficult to define, comics can be an effective visual storytelling medium for explaining and raising awareness about privacy. However, existing privacy and security educational comics do not support content creation. To address this, we contribute PrivacyToon, a comic-based authoring tool that leverages concept-driven storytelling and ideation cards to help users create customizable privacy-related visual content. Our exploratory user study with 23 students and teachers shows PrivacyToon's potential as a creative tool for communicating privacy concepts and stories. Our results show that a wide range of creativity preferences and contexts must be considered when designing systems that integrate ideation card-based design processes.}, booktitle = {Designing Interactive Systems Conference}, pages = {41–57}, numpages = {17}, keywords = {concept-driven comics, concept-driven storytelling, privacy and security education, authoring tool}, location = {Virtual Event, Australia}, series = {DIS '22} }